I found this helpful article today for pets who need to lose a little (or a lot) of weight. In addition to the suggestions below, we also have a medication called
Slentrol
that alters the way a dog's intestinal system processes fat, in order to to "fool" them into thinking they have eaten a fatty meal when in fact they haven't. This helps shut off their appetite, just as any actual fatty-food meal tends to do. Too bad they haven't worked out the details of this medication for humans! (Do not take this yourself, it is not approved for use by humans).
Dr. Utchen
011 weight loss resolutions for your pet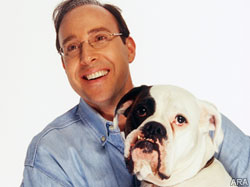 (ARA) - OK, so you purchased new running shoes, joined a gym, and are ready for a fit and healthy 2011. But while getting in shape and losing weight is an admirable New Year's resolution for you and your family, it's important to remember that people aren't the only ones who might need to shed a few pounds. The number of overweight pets in America continues to rise. Nearly half (45 percent) of dogs and 58 percent of cats are overweight or obese (at least 20 percent above ideal weight), according to a recent survey of veterinarians by the Association for Pet Obesity Prevention.
"Pet owners might mistakenly think that a pudgy dog or cat is cute, without realizing this extra weight puts the pet at a greater risk for developing serious health problems, including arthritis and diabetes," says Dr. Grace Long, a veterinarian with Nestle Purina. "But the good news is that with proper nutrition and exercise, pet obesity can be reversed."
Pet owners need to remember, however, that while their weight loss success rests largely in their own hands, paws don't have the same power. If pets are to be successful at getting in better shape - and health - their owners need to intervene. Fortunately, concerned pet owners can start the New Year off on the right foot. In 2010, Dr. Meredith Rettinger, a veterinarian with Laurel Pet Hospital in West Hollywood, Calif., supervised a group of eight overweight dogs and their owners as they participated in Project: Pet Slim Down - a 90-day weight loss journey documented online at
projectpetslimdown.com
. Dr. Rettinger currently is overseeing a similar 120-day journey for dogs and cats and their owners. Project: Pet Slim Down is a nationwide program from Purina Veterinary Diets that unites pet owners and veterinarians in helping pets lose weight.
Dr. Rettinger offers five simple guidelines, "2011 Weight Loss Resolutions for Your Pet," to help you - working with your veterinarian - help your pet live a leaner, healthier life.
Resolution 1: Make an appointment with your veterinarian. Just as people need expert guidance and a physician's supervision when attempting to lose weight and/or improve their fitness level, veterinarians have the knowledge to help pet owners achieve sensible, lasting weight loss for their pets.
Resolution 2: Set realistic, measurable exercise and weight loss goals. Your veterinarian can help you rule out any medical reasons for excess weight and help you plan a fitness and nutrition program that takes your pet's age, size and breed into account.
Resolution 3: Discipline yourself to make exercise a priority for you and your pet. Sure, our lives are getting busier and we have less time to exercise, but even setting aside time each day for short walks with your pet will help both of you.
Resolution 4: Control portions. Just as limiting intake is important to your own weight loss goals, ensuring a daily volume of allowed food for your pet will be key to success. Your veterinarian can tell you the exact amount of food to feed your pet each day to achieve a healthy weight, so you don't have to guess. He or she also will remind you not to say "I love you" with food.
Resolution 5: Use treats correctly. It's OK to reward your pet with a treat for a successfully completed task. Just remember that these calories need to be subtracted from the total calories allotted for the day, and they shouldn't exceed 10 percent of that allotment. Consider low-calorie treats, or break treats into smaller pieces for more rewards with the same amount of calories.